Expedited Auto Transport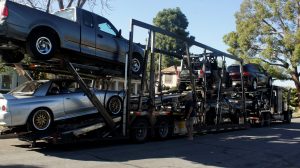 Auto shipping might seem like a time-consuming process. You have to know in advance when you will need to ship a car. It is best to contact a car shipping company two weeks prior the desired date of the pick-up.But what if you don't have two weeks? What if you need your vehicle shipped as soon as possible?
There is a car shipping service that is perfect in that case. With Expedited Auto Shipping, you will get the fastest available pick-up. It is a premium auto shipping service for those situations when time matters most of all.
Expedited Auto Transport with Tucson Car Transport
At Tucson Car Transport we know how important the time frame can be. We understand that in some situations our client can't wait. Sometimes we ship for companies and dealers, and in business time means money. With our Expedited Auto Transport services, urgent Tucson auto shipping is not a problem. If you book Expedited car shipping with Tucson Car Transport, we will get you the first available car carrier in the area. This kind of auto transport costs more, but when you can't afford to wait, it is totally worth it!
One thing worth mentioning is that we cannot make the shipping truck go faster. No auto transport company can. There are rules for truckers to take breaks. There are speed limits that can't be ignored. But still, compared to regular car shipping, Expedited auto transport is a lot faster, as you don't have to schedule pick-up weeks in advance. Have a high-end auto that you need shipped? Not only can we ship it fast, but we also have exotic car transport services!
Although the price for Expedited car shipping is higher, our rates are still really affordable. You can be sure our agents will provide you with the best quote. Contact us today at (520) 230-5200 to get your free quote for Tucson auto transport. We will be happy to transport for you!