Car Movers
When you need to move a vehicle across a far distance, look for help from Car Movers. Auto shipping can be helpful in many situations. Whether you are relocating with a family or buying a car from out of state, car transport is a great way to move your vehicle. It can also help you when you need to move commercial vehicles for your business or even if you are going on a long trip and you want to have your car with you. Car Movers can really make your life easier when there is a need to transport a car.
Tucson Car Movers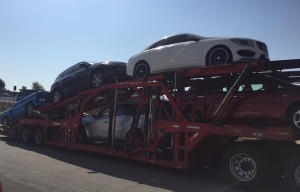 At Tucson Car Transport we work with the best Car Movers in the industry. Our auto haulers can ship any vehicle to any city in the United States, providing top-notch Tucson auto shipping services. Tucson Car Transport drivers are all professionals with great experience in the industry and clean driving records. They know everything about safe loading and unloading, as well as properly securing the car on the trailer. They use the best routes for auto transport created by our professional team. Every vehicle we ship is insured for the duration of the process.
Call Tucson Car Transport to get more information on our auto movers and Tucson auto shipping services we provide. Our agents will be happy to help you with all your questions. We have great rates for our Tucson vehicle transport, beating all the competition. We also offer special discounts for our Tucson auto transport services. You can get a free auto transport quote by calling our office on our business hours. Or you can just as easily request it on our website by filling out the form. No matter the type of vehicle, whether you need van transport or special care for your exotic car, we take care of all kinds.
Tucson Car Transport will be happy to serve you! Give our friendly agents a call at (520) 230-5200 to start the process today.