Car Moving
Car Moving is the perfect solution to many life situations. If you are moving out of state, moving your car does not have to be a problem. Auto shipping services are convenient and can save you money. Most of the time, it is the best option for your relocation. You can also use car transport to ship your new car from an auto state dealer or auction. And businesses that use commercial vehicles use auto shipping services very often. It becomes common to use car moving and it gets more and more popular among everyday people, not just companies and auto dealers.
How Tucson Car Moving is done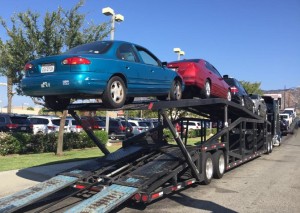 Contacting a Tucson Auto Shipping Company
When you have done your research about reliable Tucson car shipping companies, it is time to shop around and choose the one to go with. It is best to call car carriers about two weeks prior to the pick-up date you need. Agents will discuss all the details with you and find a car carrier for your Tucson auto transport.
Picking up
On the agreed date, a car hauler will pick up your vehicle. Preparations for shipment take place prior to pick-up. The car hauler will inspect it, load it onto a trailer and secure it according to safety rules.
Shipping a Car
After the pick-up, the process of Car Moving itself starts. The driver is responsible for the vehicle's safety during Tucson auto shipping. Insurance is provided by auto haulers for the time of Tucson auto transport.
Dropping off
You will be given a two-hour window to expect your car carrier on the agreed date. You will have to be present for the drop-off. Your vehicle will be inspected again, and you should note if there is any damage before signing a Bill Of Lading.
Tucson Car Transport will be happy to help you with Tucson Car Transport! Just give us a call at (520) 230-5200 to get the ball rolling.