Door to door Auto Transport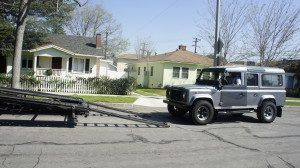 Car Shipping might seem a stressful and time-consuming process. Especially when you have not shipped a vehicle before and don't know much about how it's done. The good news is auto transport can be really convenient. Even more so with Door to door auto transport. Your vehicle gets picked up right at your place and gets shipped to the location of your choice. Door to door car shipping is a real time saver. So when you are looking to ship your car, just find a reputable car transport company to complete your direct delivery.
Door to door Auto Transport with Tucson Car Transport
Tucson Car Transport is a Tucson auto shipping company that cares a lot about the conveniences of the services. That is why Door to door Auto Transport is our standard way to ship a vehicle. Wherever in the United States you are, our car carrier will pick up your vehicle from your location. Then you will just have to be present at the chosen place of the drop-off. It is really easy and saves our clients from an unneeded hassle.
Although there are some areas our car carriers cannot get into, like narrow streets, it is not a problem! We will discuss other locations with you, such as nearby parking lots. We always make sure our car shipping is convenient for our clients.
We can do both open car shipping and enclosed car transport along with direct delivery service. Our door to door auto shipping is available for all kinds of vehicles. We provide Tucson car shipping to individuals and businesses, helping any relocation become easier. Need a little more protection? We also offer enclosed auto transport measures.
We price all our services competitively. We offer great rates and provide special discounts. Contact Tucson Car Transport today at (520) 230-5200 for a free quote!